Summer Camp News from Adirondack Woodcraft Camps
Jul 14, 2018
Hi Campers! Can you believe we are rounding out our third week of summer camp at Adirondack Woodcraft Camps right here in Old Forge, NY? We have been so busy having tons of fun on our summer camp adventures. Let's catch you up on trips! Since you last checked in, our Auroras went on a 4 day/3night epic trip to Indian Head, Fish Hawk Cliffs, and Mt. Colvin. Can you say AWESOME? Way to go, girls! Our Trail Campers and Outposters (oldest and youngest boys divisions) combined forces and canoed and camped at Stillwater for a great two nights together.It meant a lot to our little guys to have the big guys to look up to! Once back at camp though, we did hear the "little guys" did a much better job collecting fire wood… Game's on for next time, Trail Campers!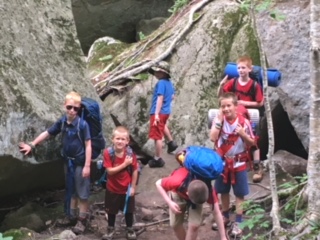 Our Rangers looked like they had worked hard when they returned from their recent trip because they did! Canoeing and portaging their way through the Fulton Chain and ending at Raquette Lake, they camped 3 nights under Adirondack skies. Go Rangers! Our youngest girls, the Hadarondahs, did a fantastic job on their first double overnight at Moss Lake. So much so that a few of them would've rather stayed another night! While all of those campers were away on their trips, the Wenonahs and IV divisions took over Woodcraft and had their own great day trip via mountain bikes and hiking trails for a cool dip at beautiful Inlet Beach.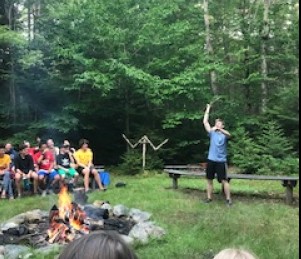 Last night we had the whole camp back together again (all relatively dirt-free after much needed post-trip showers!) and we enjoyed a great dinner complete with home-made frosted sugar cookies for dessert. Campers then treaded down the pine needle covered path to a great campfire that our fantastic OLTDs built for us. Jokes, skits, stunts… and a great Adirondack song filled the night before bed. 
We're so proud of all of our Woodcrafters and also of our incredible summer camp staff and OLTDs. Each one of them makes the days here fly by. Some of our first session campers are asking if they can PLEASE stay longer so don't be surprised if you get a phone call home from the office!
What's next, you say? Woodcup Soccer tournament tomorrow! Stay tuned for Woodcup news. Sending you our best from your favorite summer camp in the Adirondacks,
Your Adirondack Woodcraft Summer Camp Team
Tags:
Add Pingback
Please add a comment
You must be logged in to leave a reply.
Login »