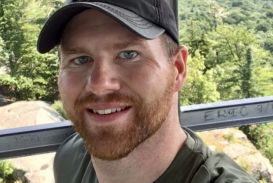 Craig Kleine- Program Director
Hello everyone! It's great to be coming back to Woodcraft after a summer away. I am excited to come back in the role of Program Director. I have enjoyed many years in various roles at A.W.C. and look forward to this new adventure.
I am a father of two children, Henry and Vivian, and during the off season I am an Elementary Teacher for the Carthage Central School District. I am in my 4th year of teaching fourth graders and enjoy taking my teaching experience and using it in a different capacity at Woodcraft.
I have grown up with the Adirondack Park as my playground for summer adventures. I love teaching younger generations the skills needed to safely enjoy this amazing place in the same way that I have and to help them foster stewardship skills so that future generations may enjoy it as well.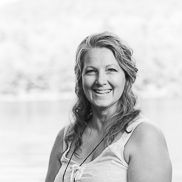 Therá Levi- Kitchen Director
Greetings from the kitchen! I am a native Adirondacker and was introduced to AWC in the late 80's when my oldest daughter was a camper the year they created a girls division. My first year working in the kitchen was 2001 and I have looked forward to June and returning to AWC ever since. I am the mother of 5 girls and all of them have had the incredible experience of being campers and also of working here, three are part of the kitchen staff this year . My 14 year old grandson has been a full time camper since he was 5. Woodcraft is a place where I feel at home.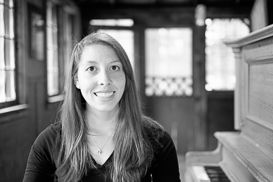 Ashton Eldridge- Waterfront Director
Hello! I am the Waterfront Director at Woodcraft this summer. I first started coming to camp as a Wenonah in 2002, and this year marks my 14th summer spent at camp. During the school year I teach at Indian Lake Central School, as the third grade teacher. I love working with children both inside and outside the classroom and I am excited for another fantastic summer at AWC!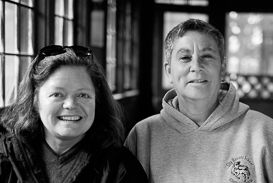 Mary Gerhardt & JoAnn Brenner- Nature & Arts & Crafts
Mary (on the left)

My camp counselor experience started at a YWCA camp in Wisconsin in the horsemanship division. I also lead wilderness trips for an Audubon center in Minnesota. I was Marine science instructor in the Florida Keys . A state park naturalist in Vermont. An environmental educator in South Carolina. The resident naturalist on a barrier island in Georgia. I have worked for the US postal service. Taught preschool. For a few years I worked at Raquette Lake School (a 2 room school). Presently I teach Earth Science and Living Environment during the school year. For a quarter of century I have called Woodcraft home. I continue to share and enjoy the sense of wonder that your children find when given the chance to explore the natural world. Here's to another summer of wonder!

JoAnn (on the right)

I am the Arts Director at Woodcraft. This is my 9th year and I am so excited to be back at camp. I hold an MFA from Rochester Institute of Technology in ceramics and I have 22 years of teaching experience. When I am not at camp I am a studio artist making custom tile. I bring my love of teaching and the arts to camp and I am looking forward to another great summer.

Otto Euller
Hi, my name is Otto Euller. I first came to Woodcraft at the age of 10. 10 years later, I'm still returning! I am currently enrolled as a full-time student at Ithaca College in upstate NY. I am majoring in Biochemistry, and hope to someday do some form of cancer research or drug design and development. As a long-time member of the Woodcraft family, I have grown up with the most amazing group of people who all know and care for one another. Now as counselors, we work together as a unit, providing the same love and care that we received growing up.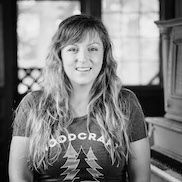 Danielle Ritchie, R.N.
Hi, I'm Danielle and this is my first year at Woodcraft and I am excited to be working with such a wonderful group of people with the goal of giving your kids the best summer ever! I look forward to being part of the learning and growing that takes place at Woodcraft and how those experiences will help shape them into who they will be. I have been a nurse for 10 years and have worked in various areas including burn/trauma, home health, and rehabilitation/long term physical therapy. I have a twin sister who is also a nurse and she specializes in pediatric hematology/oncology at Golisano Children's Hospital in Rochester NY. I love music and movies and I am the proud owner of two dogs - a dachshund and a boxer whom I enjoy exploring the outdoors with.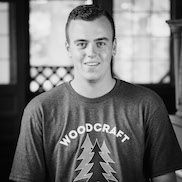 Thijs Van 't Veer
My name is Thijs l'm 19 years old. I live in Woerden in The Netherlands. I love to play soccer and to ski and snowboard. I work as Ski instructor in winter. My goal for this summer is to have a help your children have a great summer and tour the United States after camp.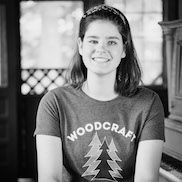 Paloma González
Hi there! My name is Paloma and this is my fifth year at Woodcraft. Back home in Spain, I like to play tennis, read and draw. I'm going into my senior year in high school, and after I graduate I'm hoping to study Mathematics somewhere in the US. I love coming back to Woodcraft every year, and in my first year as a Junior Counselor, I hope I can make it a pleasurable experience for your kids too!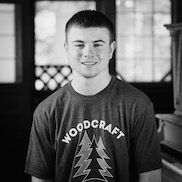 Joe Chadderton
Hi! I am from Manchester, England and this is my third summer at Woodcraft. I love soccer and rugby and coach these sports with children ages 6-10 while I'm at home. I am a lively person that loves being in the open air. I am looking forward to a fantastic summer at Woodcraft.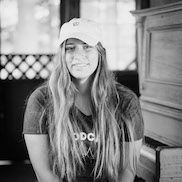 Alex DiOrio
This is my 6th year at AWC, but first as a counselor. I like to hike, alpine ski, read books. I am majoring in Outdoor Studies and Psychology this fall at St. Lawrence University. I hope to make this summer one to remember for your child.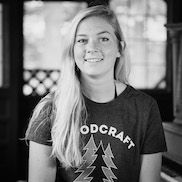 Roisin Lacy
Hi, my name is Roisin and this is my second year here at AWC. Having grown up in Malaysia and Egypt I love being outdoors and I'm excited to spend another summer here in the Adirondacks. I am currently studying Bioveterinary Science in Liverpool, and play volleyball and netball for my university.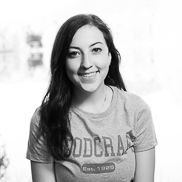 Elise Carney
Hi! My name is Elise, and I am from Rochester, NY. This fall I will be entering my junior year at Kent State University's College of Nursing. I enjoy hiking, skiing, and playing field hockey in my free time. The Adirondacks has always been one of my favorite places visit, so I am thrilled to be returning for a second summer here at Woodcraft!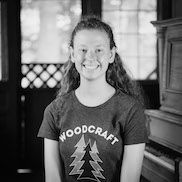 Anna Kanengiser
I am interested in studying political science. I have worked with kids ages 2-4 in a preschool and I'm looking forward to working with older children and sharing my enjoyment of the outdoors. I especially like to swim and kayak in my free time.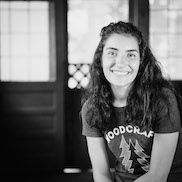 Alyssa Calabrese
Hi my name is Alyssa! This is my first year at Adirondack Woodcraft Camps. I have spent many summers exploring the wilderness of the west coast; my favorite locations being Alaska and Montana. I am incredibly excited to explore the Adirondacks, and am looking forward to an excellent summer!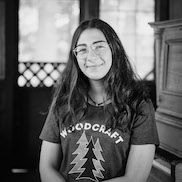 Luvi Lucarini
Hi, my name is Luvi and I'm from Italy. This is my first year here and first as counselor. In September I will start my last year in my school where I'm studying tourism. I love spending time with my family, friends and travel with them. In my spare time I like to play volleyball or read books.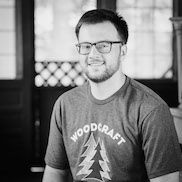 Connor Glasser
Hello! My name is Connor and I am from Old Forge, NY. I just finished my second year as a student at Alfred University. I was a long-time camper and winner of the Chief's Knife. I am looking forward to another great summer here at AWC.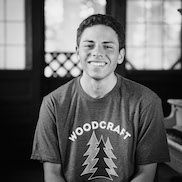 Luke Monroe
Hello from Woodcraft! I live in Old Forge and go to school at SUNY Albany. I'm nineteen years old and will be going into my sophomore year at the University at Albany. I'm studying Biology and plan to go to graduate school for Dentistry. This will be my ninth year here at Woodcraft, and my first year as a counselor. Before becoming a counselor here, I was a lifeguard at a local beach and a boat steward at the Adirondack Watershed Institute. I am also a former Chief's Knife winner. I love camp and am very glad to be back!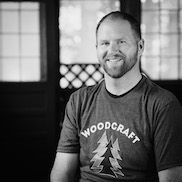 Craig Kleine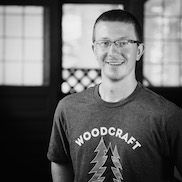 Troy Platt
I'm excited to be at Woodcraft for my second year! I plan on becoming an Earth Science teacher after graduating from SUNY Cortland. In my spare time I enjoy hiking, rock climbing, skiing, and playing ultimate frisbee.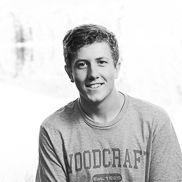 Daniel Holland
Hi! My name is Dan, and I am from Adelaide, in South Australia. This is my second year as a counselor at Woodcraft, and I am super excited for another great summer. I am passionate about the outdoors, music, and travel, and I look forward to sharing my experiences with your children!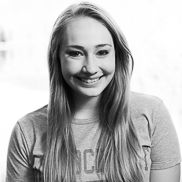 Allison Hanafin
Hi I'm Allison! I am 18 years old and just finished my senior year of high school. I'll be attending Ithaca College this coming fall. After spending most of my childhood summers here I am so excited to be back again for my second counselor year. I have always looked forward to coming back to Woodcraft as it has become like a second home to me. Over the years Woodcraft has helped me achieve some major goals of mine that include developing better archery skills, learning how to use a map and compass, learning constellations, and hiking many high peaks. I am so excited for this summer, I know it will be a good one!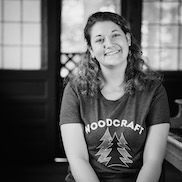 Alex Levi
Hi my name is Alex! I've been coming to Woodcraft since 2001. I love spending time in the outdoors and traveling. I've been paddling and hiking in the Australian outback, worked on organic farms in Ireland, and worked as an environmental conservationist in the state of California. Of all the places I've been, camp is still my favorite. I'm so excited for this summer!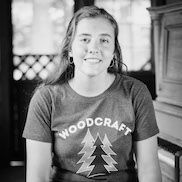 Maria Soto
Hi! My name is Maria and I'm from Madrid, Spain. This is my fifth year here and second as a counselor. I'm currently going into my second year of college where I study Business Administration and International Relations. During my free time I like playing tennis and swimming and love traveling to new places every year. Woodcraft is such a special place and I can't wait to make of this the best summer ever!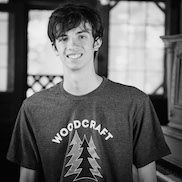 Cole Benoit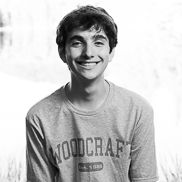 Lu Fenton
Hey I'm Lu Fenton. I am from Manhattan and I will start majoring in Media, Culture, and the Arts at Clark University this fall. I was a camper here for 5 years and this is my second as a counselor. I have extremely fond memories of this great camp and want to help pass them on to new generations.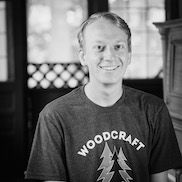 Henry Kanengiser
Hello! My name is Henry, I am a Trail Camp counselor, and I'm super exited to work with your kids this summer. This will be my third summer as a counselor, and I keep coming back to Woodcraft for the wonderful natural splendor, the fantastic trip experiences, and amazing friendships I have made. Outside of camp, I enjoy running, hiking, reading, and hanging out with my friends. I'm looking forward to yet another fantastic summer at Woodcraft.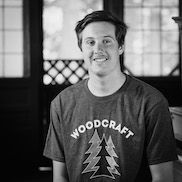 Henry Uzdavinis
I am enrolled at North Country Community College studying wilderness recreation, I also play soccer and ski. I am excited to be back and am ready for my 12th summer as a camper and counselor.